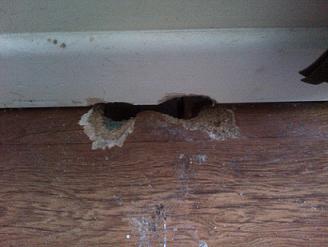 Rat and Mice Control
We can quickly get rid of rats and mice and it won't cost the earth. Phone us now for free advice on how to deal with the problem and a no obligation quote.
Whether it's one mouse in your kitchen or a plague in your warehouse we can quickly tackle the problem.
If you see a rat or mouse its often a sign of many more so phone us now for advice.
Reasons to control rats and mice
Rats and mice will quickly set up home anywhere and always cause damage and health risks by:
Transmiting harmful bacteria, viruses and diseases to people and livestock
They cause contamination with their droppings, urine and dead bodies etc
They eat and spoil foodstuffs
Damage to goods and buildings
People are afraid of rodents!
All of the above can have a detrimental effect on your home and an even greater effect on your business activities, resulting in severe financial losses.
Early signs of infestation
There are a number of signs to indicate their presence which can often be found at the early stages of infestation.
Things to look out for are:
Droppings - rat droppings are small blunt spindle shaped measuring about 10-20 millimetres long and mice droppings are rod shaped and 3-6 millimetres long
Nesting material (small pieces of chewed paper and plastic) often found at base of draw units, service cupboards and store rooms
Smell - a musty smell similar to a damp unventilated area or wet hay or straw
Noises - You're more likely to hear them at night. You'll hear squeaks, rustling and scampering sounds as they make their way around
Damaged or spoilt food - did you know mice will eat most foods before they will eat cheese? Favourites include chocolate, peanuts and cooking fat!
Grease marks - rodents often leave a black or dark grey smear of body grease when regularly running over surfaces such as conduit or pipes
We can eradicate all rodents from your property and advise on how to best way to rodent proof it so they dont return.